Elvis' Love for his Pets
Elvis Presley & his animals. Elvis & Pets to the song "Now or Never" —
Elvis Presley is known all over the world and his talents and contributions to our society are unquestionable. His giving to other people is legendary and amazing; he wanted to make people happy. He certainly did and still does even 24 years after his death.
There are many beautiful things about Elvis, but the one I want to talk about it here is his love for animals. I think this is a perfect way for me to pay my tribute to this man who gave so much to others, humans and animals. Interesting enough, there aren't many references to Elvis' love for animals in the literature. So I gathered the most information I could about his dogs and other pets. I thought it would be nice to show just know how many animals he had and loved throughout his life. Make sure you check out the pictures!
Boy was the first dog Elvis acquired shortly after he began to achieve stardom. He always loves animals, but he could never have one when he was younger, so he made up for that when he became a star.
Baba was the Collie that went to Hollywood with Elvis and can be seen in the movie Paradise, Hawaiian Style (1966).
| | | |
| --- | --- | --- |
| Baba with Elvis and his wife Priscilla. | | Elvis with Baba and two other canine friends. |
Edmund was a Pomeranian that was one of Elvis Presley's favorite pets at the time of his death.
Getlo was a Chow that Elvis really adored. In 1975, before she was a year old, Getlo developed serious kidney problems and Elvis spent thousands of dollars in an effort to save her life. Sadly, she eventually died very young.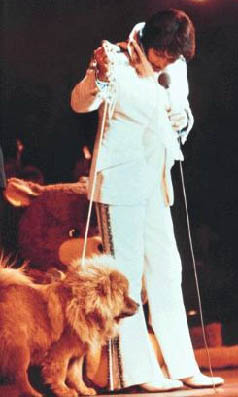 Getlo on stage with Elvis.
Muffin was the name of Elvis' Great Pyrenee dog. A beautiful white dog, he seemed to have an incurably bad temper, which even obedience school couldn't improve. Even Elvis was bitten a few times.
Stuff was a black Poodle that lived at Graceland. He belonged to Elvis' aunt Delta Mae, but Elvis grew as fond of the dog as its owner was.
Sweet Pea was a tiny dog that Elvis gave to his mother Gladys in 1956. After Gladys's death, Elvis continued to care for the dog.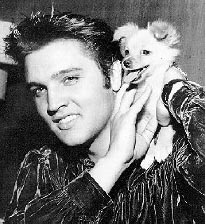 Elvis and Sweet Pea.
Teddy Bear of Zi-Pom-Pom was a pedigreed Poodle given to Elvis by a fan when he was in the army in Germany. Apparently the dog accompanied Elvis back to the States when he returned.
Elvis also used to give dogs as gifts to people he loved.
Littlebit was the toy Poodle Elvis gave to his girlfriend Anita Wood in the 50's.
Honey was the Poodle Elvis gave to his wife Priscilla Presley for Christmas 1962.
Elvis also gave to his wife a pair of Great Danes in the 60's, Snoopy and Brutus. Brutus can be seen playing the role of Albert in the movie Live a Little, Love a Little (1968). The dog died not long after Elvis and Priscilla divorced. Snoopy later became Lisa Marie's dog.
| | | |
| --- | --- | --- |
| Snoopy and Lisa Marie. | | Brutus with Elvis, Priscilla and Lisa Marie. |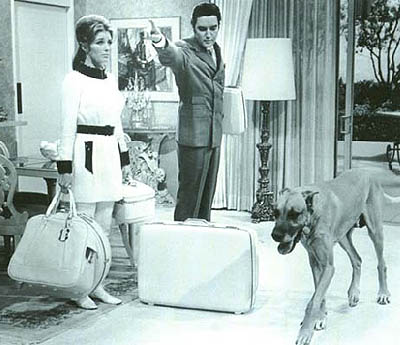 Brutus as Albert in the movie Live a Little, Love a Little.
Foxhugh was a Maltese given by Elvis to his girlfriend Linda Thompson in the mid-1970's.
Elvis loved other animals besides dogs. Graceland, his home in Memphis, TN, was also home for many other pets. Some were unusual, such as a chimpanzee named Scatter, a Mynah bird and even peacocks but others were more common, like horses.
Elvis' love for horses is legendary. Some of these horses became very famous because of their famous owner. Bear was a prize-winning Tennessee walking horse. Elvis bought this black horse fully trained, but in order to get him perform he had to be ridden along a fence line.
Rising Sun was a big golden Palomino horse that Elvis bought in 1966. He had worked in horse shows and rodeos and it seemed that he loved to be admired.
| | | |
| --- | --- | --- |
| Elvis with Rising Sun. | |   |
Mare Ingram was one of the horses Elvis kept at the Circle G Ranch. Elvis bought the ranch in 1967 because Graceland didn't provide enough space for all the horses he had by that time. He had the total of 18 horses. As it happened with dogs, Elvis gave horses as gifts as well. He gave his father a horse named Colonel Midnight, and to his wife, he gave a horse named Domino. Even all his bodyguards got horses so they could accompany him in his daily rides.
Today there are still horses at Graceland, and the mansion has been open to the public since 1982. Rising Sun was there and was visited by millions until he died in 1987.